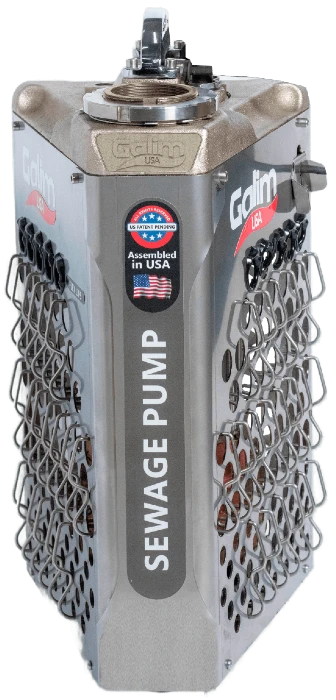 During the last two years we have designed and developed a revolutionary non clogging pump, taking in consideration the environment. It is being damaged by wipes, personal hygiene items and toiletries that are being thrown into the sewage system.
[ultimatemember form_id="865"]
Galim USA LLC is a privately owned company with more than 25 years of experience in the water pump industry, offering unique, premium quality sewage and grinder pumps.
We have designed and patented our pumps to give a solution for household and commercial use. Having a strong commitment to environmental care leads us to present the first pump that makes a positive impact on our planet.
We are proud to have a 100% American Assembled product.
We created a patented 304 stainless steel protective shell with specific diameter drillings located strategically. We added a barrier in order to avoid any clogging or jamming, creating a space within the drills so the water can go through normally.
SEWAGE 3/4 hp – 115V – SEW07511A
SEWAGE 1 HP – 115V – SEW10011A
SEWAGE 1.5 HP – 230V – SEW15021A
GRINDER 1 HP – 115V – GR110011A
GRINDER 1.5 HP – 230V – GR115021A
Every single non-organic material that makes its way into the sewer collection system, results in blockages and system failures causing damage to expensive equipment.
These materials will make their way to the wastewater treatment plants ending up with small microfibers and microplastics being released into the environment.
Our commitment with environmental care leads us to present the first pump in the industry that will truly make a positive change in our planet. Galim USA's water pumps will block the majority of the non-biodegradable items to make their way into the sewage system. This will avoid any clogging or overflow in your property as well as reduce damage in water treatment plants. We came up with a solution to the biggest problems in this industry. We created a changemaker pump for our community. We commit ourselves and the entire industry to continue building a more sustainable and green planet.
44 gallons (166lt) every 2000 wet wipes
100 gallons (378lt) the pump will support 5000 wet wipes.
we care about environment
The Water Expo: August 23-25
South Florida Plumbing and Mechanical Trade Show & Expo : Nov 17
Hours
Monday to Friday from 9 am to 5 pm